Skydive with the
Red Devils
Experience the thrill of a lifetime with a tandem skydive. You'll jump out of a plane at 13,000 feet with one of our world-class tandem instructors and spend an exhilarating 40 seconds in freefall. When the parachute opens, you'll enjoy a birds-eye view for miles around as you descend back to earth.
You can jump with us at Skydive Netheravon in the south of England .
Why jump with us?
World-class team
Full day experience
Military trained
High-quality imagery
Tandem Skydive Prices
We offer three different packages for tandem skydives. See what's included below to choose the best option for you.
Standard
£300
per person
Standard includes:
Team introduction
Ground school and safety briefing
Borrow of equipment, including a Red Devils jump suit, goggles and gloves if needed
Jump from 13,000 feet (40 seconds of freefall time)
Book now
Most popular
Premium
£400
per person
Camera includes:
Includes all items in standard package +
Personal camera Red Devil to capture photos and video
Full photo package
Hand-edited video
Book now
VIP
£600
per person
VIP includes:
Includes items in standard package +
One-on-one ground school and safety briefing
Personal camera Red Devil to capture photos and video
Full photo package
Hand-edited video
VIP jump from 13,000 feet (40 seconds of freefall time) with two Red Devils alongside you, releasing a trail of red smoke across the sky
Book now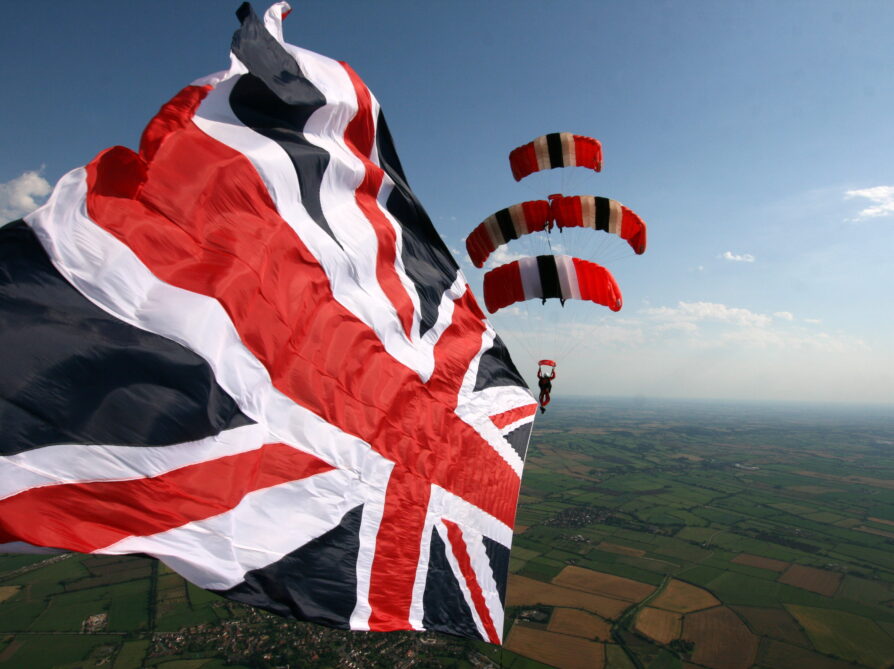 Tandem skydive location
Wiltshire
We offer tandem skydives our Home DZ in Wiltshire
Netheravon is the home of the Red Devils. A military base in the heart of Wiltshire, Netheravon is where we train. Most of our tandem jumps take place here.
What to expect
from a skydive
On the ground
When you jump with the Red Devils, you get a full day experience. You'll arrive in the morning ready for ground school, where you'll be given full training and a safety briefing from your instructors.
When it's time to jump, you'll be kitted up with a harness and safety goggles – and our famous Red Devils jumpsuit if you wish.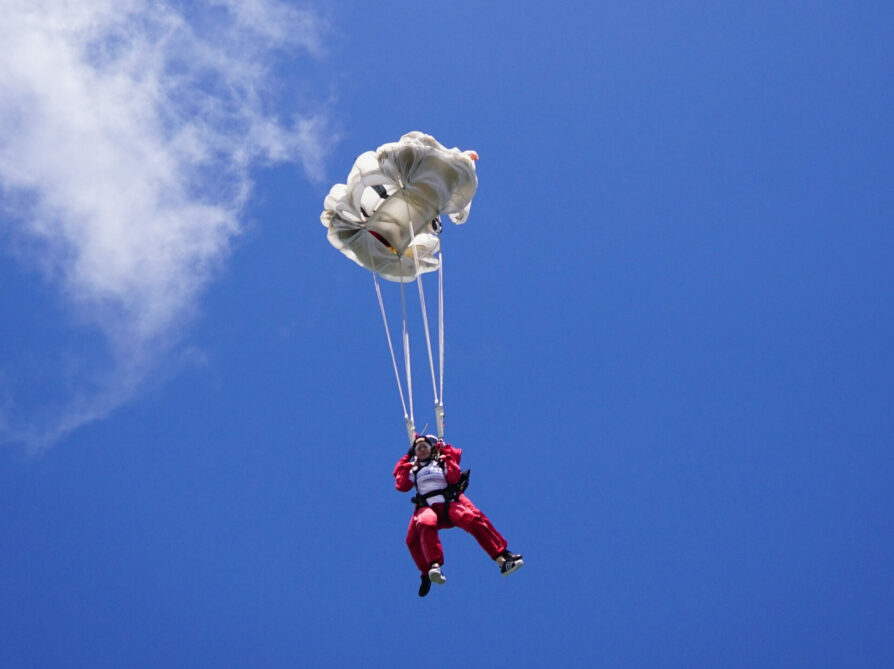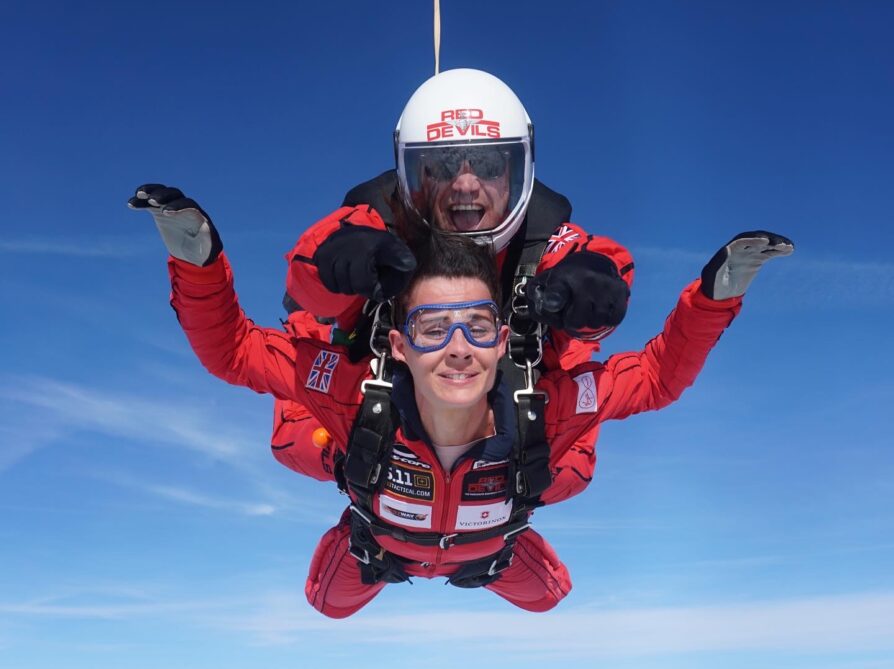 During freefall
A 15-minute plane ride will take you to 13,000 feet high, where you'll exit the plane strapped to your instructor for an unforgettable 40 seconds of freefall, reaching speeds of 120mph.
If you opt for a photo and video package, your dedicated cameraman will jump with you to capture the best footage of your skydive.
Under the parachute
Your instructor will deploy the parachute at 6,000 feet, and you'll then be able to enjoy the spectacular views at a slower pace. The flight under the canopy will last for around five minutes.
Upon landing, the Red Devils ground crew will assist you in de-kitting and detach you from your instructor. You'll then be able to take some final photos with the team to commemorate your once-in-a-lifetime experience.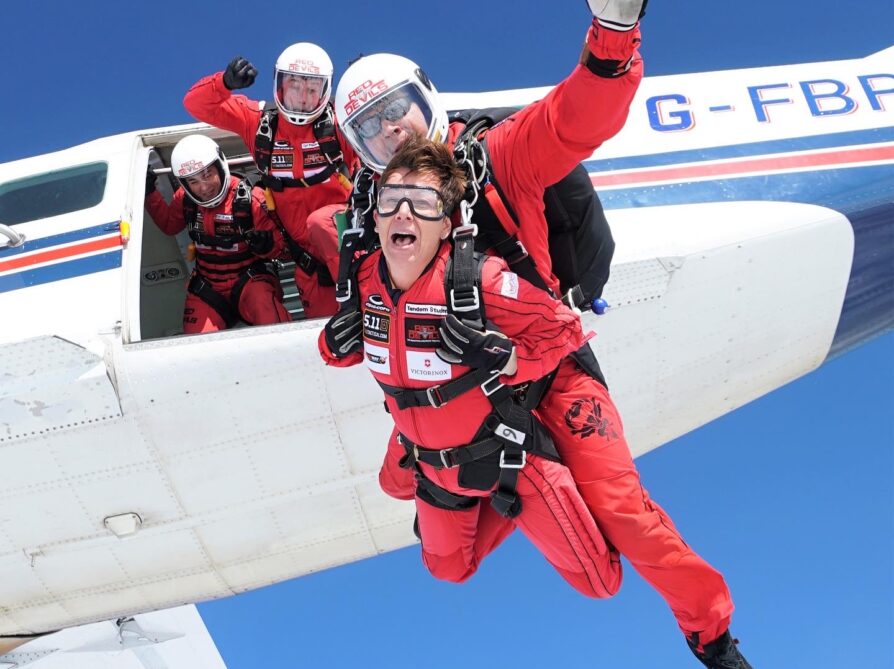 Tandem skydives
for the disabled
Do you have a disability? It doesn't mean you can't experience a skydive. We offer tandem skydives for those with a range of disabilities.
All you need is a doctor to sign you off as medically fit to skydive, and we'll then carry out a safety assessment of our own. The Red Devils team will assess your individual requirements to ensure we can carry out a tandem safely. Nine times out of ten, we can.
Contact us to discuss your requirements and arrange an assessment.